Remarkably Upgraded Assembly
New Flexible Sub-assembly

By default, sub-assemblies are rigid as a group in top assembly. Now, in ZW3D 2019, you can make them flexible, in a bid to move individual components for verifying the motion of the whole assembly.

New Rename Assembly

With the new rename assembly tool, you can easily rename the independent components or sub-assemblies in the assembly mode, without breaking the existing references. Plus, the related 2D drawing points to the new part automatically.

New 3D BOM

Users can get a 3D BOM table based on a 3D model with multi-shapes or an assembly directly. In this table, the attributes of any shape or component can be edited, including standard attributes and customized attributes. 3D BOM function greatly lifts the efficiency of attributes management.
Significantly Improved User-Experience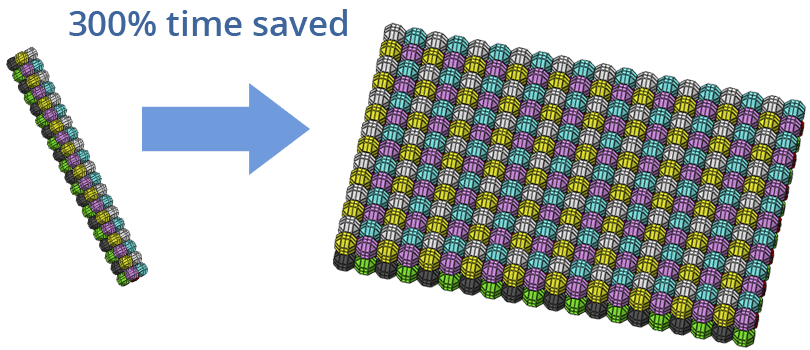 Significantly Improved User Experience
Working with big models gets smoother (e.g. File is larger than 1 GB). New algorithm drives faster zooming, panning and rotating of your design. Furthermore, a higher calculation speed greatly slashes response time. For example, the time for patterning 4480 shapes with 98560 faces is reduced by 75% (from 4 mins. to 1 min).
Enhanced Modeling
New Explicit Feature

Explicit feature is static and non-parametric. New explicit feature mechanism is based on an individual entity, which can be a shape, a surface or a wireframe. The explicit feature can be created without association after import, encapsulation/defeaturing or coping shapes, resulting to more stable and faster history regeneration.
Optimized User-Defined Feature

The user-defined feature manages groups of features, associated dimensions, and feature relations. It can be used as the feature library to reuse the size, shape, and orientation of the reused design element. User-defined feature function will simplify the design process and lift the efficiency.
Improved Feature Enclosing

When sketches are created under the modelling features, like extrude, revolve etc., they automatically vest in the selected operations. Internal sketch can be converted to the external one that can be reused in other operations. The feature enclosing shortens the history and speeds up the history regeneration.
More Powerful 2D Drawing
New Auto Dimension

Adding dimensions to 2D drawing views used to be very time-consuming, especially on large or complex models. New auto dimension tools solve this problem. Via some basic settings and a single click, the dimensions are generated quickly by default. It can reduce repetitive work and increase the efficiency of 2D drawing.
Upgraded Translator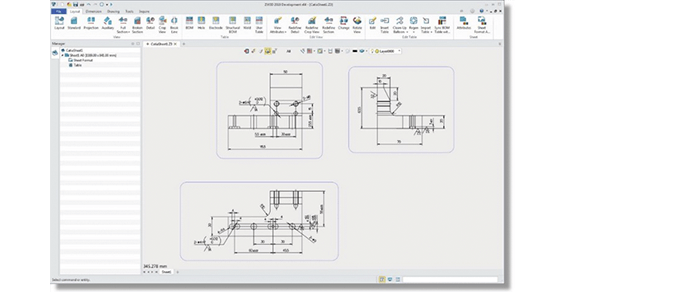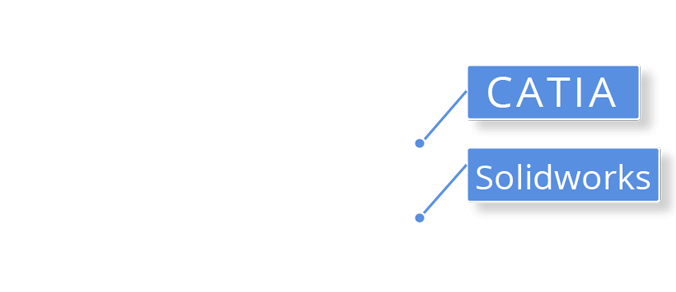 ZW3D 2019 can read 2D drawings from CATIA and Solidworks, making cooperation with up-and-down suppliers smoother.
ZW3D can import mainstream third-party and standard CAD formats, achieving extensive data integration and high-quality data import to meet higher requirements.
Innovative Mold Design
Redesigned Mold Parting Wizard

Optimized workflow and extended functions make mold parting easier. The multi-region definition is supported, and various features can be used for creating parting faces. Furthermore, the new mechanism provides clearer processing management and more stable regeneration.
Optimized Electrode

Improved electrode blank function provides assembly and shape mode for creating electrodes.
The layer and the color of electrodes can be customized. Reformed electrode drawing supports the customization of the view center, annotation style and drawing template, meeting different needs of customers.
Powerful High-Performance Roughing
70% Reduce Cycle Time

VoluMill, not only evens the loads on machine tools and cutting tools, enabling them to cut faster and deeper under greatly reduced stress, but also creates an opportunity for manufacturers to produce more parts in less time on existing equipment that last longer.
800% Extend Cutting Tool Life

VoluMill toolpaths use smooth, flowing motion, eliminating sharp directional changes. This enables cutting tools to operate under ideal milling conditions all the time, regardless of part's shape or complexity.

Optimal cutting conditions all the time

Safely and easily control cutting dynamics

Use your cutting tools more efficiently

Automatically reduce tool-shock
More Reliable and More User-Friendly CAM
Expanded Capabilities

In ZW3D 2019, Cleanup Corner Control was added in 2x operations, which helps user to make smooth toolpath in the sharp corner easily. The smooth toolpath will reduce tool-shock to save tool cost and get better surface quality. 2x helical operation was enhanced to support tangent engage & retract, and arc & cycle data output in multi-axis, expanding capabilities for part making.

Response to Customer Requests

Helical and Ramp toolpath support G02/G03 output, which extends the tool life and improves machining quality. Sub-program was supported in the 2019 version, fitting the request of some customers in multi-parts making.
More Reliable

In ZW3D 2019, the algorithm of flat finishing operation is optimized, making flat finishing more reliable and operation of detecting flat face more steadily. Big steps algorithm of 3x roughing was improved, which reduces cycle time and delivers more reliable functions. Safe ramp length was added in the new version, which helps users protect cutting head to work under safe condition.

More User-Friendly

In ZW3D 2019, details are kept polishing to make software more user-friendly. In this version, a lot of new functions and improvements are developed to meet customers' demands, including features to unify type or toolpath, to class 2X link toolpath & to sort and count hole numbers. Also, the tool manager is updated to support letter characters and D&H register inheriting. Icon of CAM tree is newly added. Toolpath verification is enhanced. Custom CL form supports excel behaviour.
Perfectly Integrated with Third-Party Tools
Integrated Nesting

PowerNest is a reliable and fully automatic nesting solution, which is integrated into ZW3D CAD. It helps to better utilize material, save time and improve the performance. As a fully automatic nesting solution, more calculation time enables better results. The Nesting report clearly shows the results, such as the quality of each profile and utilization.
Integrated PARTsolutions

Online PARTsolutions library helps engineers and purchasers easily find and reuse the standard parts to speed up the design process. More than 500 certified suppliers CAD catalogs are available, which promote enterprise standardization and reduce engineering costs.